Baptist Cancer Center Oncology Pharmacy Residents
Timothy Starry
PGY2 Resident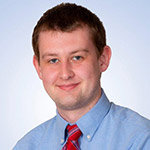 Undergraduate degree
Bachelor of Science in biochemistry; University of Tennessee; Knoxville, TN; 2016
Pharmacy degree
Doctor of Pharmacy; University of Tennessee College of Pharmacy; Memphis, TN; 2020
About Timothy
Timothy was born and raised in Chattanooga, Tennessee. He completed his first year pharmacy residency at the Banner Baywood Medical Center in Mesa, Arizona in 2021 before returning to the Volunteer State to become a pharmacy resident at Baptist Memphis.
Why did you choose Baptist?
I chose Baptist because of the opportunities to grow as a clinical oncology pharmacist. Because this residency is focused on the outpatient setting, there are many different infusion clinics that I get to work at throughout the year. Being at different clinics allows me to see different types of patients with different types of disease states, and it also allows me to interact with many different healthcare providers. I think that both of those opportunities just enhance the learning experiences here. Also, all of the staff, both pharmacy and non-pharmacy, have been great to work with.
What's your favorite thing about Memphis?
My favorite thing about Memphis is being close to my friends and family. I started my pharmacy career in Memphis as a first year resident, so it is nice to be back and be able to reconnect with my friends from pharmacy school. I also think the food is pretty good here, especially if you like BBQ!
What do you like to do outside of work?
I grew up playing a lot of soccer, and I like to relax on the weekends by watching soccer games since I do not really have the chance to actually play anymore. My favorite team is Real Madrid, and I was actually fortunate enough to be able to travel to Spain with my mom to watch a live Real Madrid game right before I was about to start pharmacy school. Other than soccer, I also enjoy hiking and playing video games when I have the chance.
Why did you choose pharmacy as a career?
I chose this career because of the impact that pharmacists can have in the field of oncology. Growing up, I have known people who were close to me that have suffered from various types of cancer. During pharmacy school, I realized how often new treatment options are being discovered and how pharmacists can play a huge role as part of a healthcare team.
Why would you recommend Baptist to a prospective applicant?
I would recommend Baptist because of the positive work environment. Going into this very specialized field of oncology can be quite overwhelming at first, but I have found that everyone is supportive and willing to help. I feel that the residency program is set up well to offer the best learning experiences for the resident, while also being flexible enough to tailor it to the resident's individual interests.
Graduate Resident Tracking
| | | | | |
| --- | --- | --- | --- | --- |
| Year | Resident | SOP | PGY1 Residency | Post Residency Employment |
| 2020-21 | Erica Washington, PharmD | Univ. of Tennessee | Baptist Memorial Community Residency, Memphis, TN | Oncology Pharmacy Specialist, Rush University Medical Center, Chicago, IL |
| 2019-20 | Rachel Hendrix, PharmD, BCOP | Univ. of Mississippi | Methodist University Hospital, Memphis, TN | Hematology/Oncology Clinical Pharmacy Specialist, Univ of Ark Medical Sciences, Little Rock, AR |
| 2018-19 | Pooja Patel, PharmD | South Dakota State Univ. | Mayo Clinic, La Crosse, WI | Oncology Staff Pharmacist, Baylor Scott White, Round Rock, TX |
| 2017-18 | Hima Patel, PharmD, BCOP | Univ. of Kentucky | John H Stroger Hospital, Chicago, IL | Oncology Pharmacist Specialist, Univ of Tennessee Medical Center- Knoxville, TN |
| 2016-17 | Glenn Roma PharmD, PhD, BCOP | Univ. of Illinois at Chicago | Ingall's Memorial Hospital, Harvey, IL | Investigational Pharmacist, Baptist Cancer Center, Memphis TN |